Catching up with Marcia Ball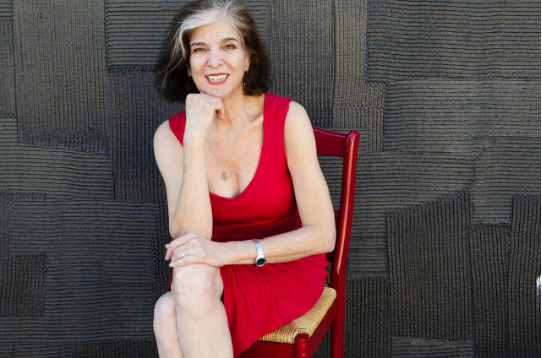 Somewhere between New York City and Portsmouth, ME, Marcia Ball is driving between shows. The weather's okay, traffic's not too bad, and driving gives her a chance to think and listen to music.
Marcia is not only a performer; she's a fan. One writer said, "She appears to be the secret love child of Miss Manners and Little Richard, sitting demurely at the keyboard while blowing the joint apart."
When illness forced Delbert McClinton to cancel his appearance on the 2023 Sandy Beaches Cruise, Marcia became the only artist to play every sailing. All twenty-seven of them! Delbert said she has more than earned her place "because she's so damn good." Elaborating, he said, "You can't live without performing. It's your life. No matter how bad you may feel one night, you don't say, 'I don't wanna do this,' because you gotta. That's the world where Marcia lives."
We interrupted her drive to ask about her world and those twenty-seven appearances on the Sandy Beaches Cruise.
How did your involvement with Sandy Beaches begin?
With a guy named Roger Naber who started the Ultimate R&B Cruise. Delbert and I and Anson Funderburgh played the first two, but we weren't invited to the third. That gave Delbert and his wife, Wendy, the idea that maybe they should do their own cruise. On the first Ultimate R&B Cruise, Roger chartered half the boat and regular cruisers had the other half. It wasn't hard to figure out which half attracted the party animals.
Delbert and Wendy started with a small roster, including Anson and me. Every year it has grown. It's a remarkable achievement. Really remarkable.
How long have you known Delbert?
I saw him around 1973 at the Soap Creek Saloon in Austin. He had Linda Waring on drums, and she's still working on Sandy Beaches. I loved Delbert right away. I knew where his music was coming from. It was right up my alley. He had that same East Texas, Louisiana, soul, blues, Cajun, zydeco background as me. He was doing an old Bruce Channel song, "Goin' Back to Louisiana." Right away, I started doing it. I told him he should do "Lipstick Traces." He started doing that.
I loved Delbert's shows. I'd dance. I'd drink rum and Cokes. Never got drunk because I sweated it all out.
Aside from a bigger roster, has Sandy Beaches evolved in any other ways?
The variety has increased. Wayne Toups was the first Cajun artist, and he went over so well, there's been Cajun music ever since. Fred Eaglesmith…a very different kind of singer, but people loved him. It has become a really interesting mix of music. That's what makes it so much fun. And of course, the shows where everyone joins in, like Red Young's late night shows, they're the best because you just never know.
The Grand Ole Opry talks about "Opry moments" that only happen when you get artists together in convivial circumstances. Are there any Sandy Beaches "moments" that you remember?
So many! I guess the best were Delbert's finales as the cruise ended. He worked everybody in. One time, there were nine saxophone players.
Then, on the last cruise, Delbert couldn't be there and Gary Nicholson did a set of songs he'd written, including some he'd written for Delbert. Then everyone did Delbert's songs with Delbert's band. Very moving.
Have you noticed how the Sandy Beaches Cruise builds community among the guests?
The one thing I hear repeatedly is, "We really look forward to it every year." And I hear stories of people who say they'll come "just one time," and they never stop. First-timers are always signing up for next year. I believe we've had people who have been on every cruise. Part of the reason is that there's no wall between "backstage" and "audience." Fans and performers are all together. I'll be standing in line for breakfast or hanging out on the lido deck with Shiny Ribs or dancing on the back deck. Regina McCrary from the McCrary Sisters will be leading a line-dance. Delbert would walk by when I was eating and scarf something off my plate. It's "small 'd'" democratic.
You'll be on the 2024 cruise with Jon Cleary. Two disciples of the legendary New Orleans pianist Professor Longhair on the same ship at the same time.
Isn't that something! Jon is a brilliant addition. I'm a huge fan and old friend. Listening to him is happiness personified. I saw him for the first time in Houston. He was doing a Professor Longhair song. It was so dead-on. Then afterward, he talked to the audience in that British accent. I said, "Oh, my God." Music really is the universal language.
Cruises must be a welcome respite from traveling between gigs.
Yes. I unpack and relax. I usually play three shows and jam sessions. Sometimes I bring my family, sometimes I bring a friend.
When StarVista LIVE! took over the Sandy Beaches Cruise, some regular guests were worried that Delbert and Wendy's family vibe would be lost. What's your experience of the management change so far?
Well, of course, Delbert couldn't attend in 2023, but otherwise I've noticed very few changes. The StarVista folks have a light hand on the tiller. And the way they landed War & Treaty at the last minute after Delbert fell sick was inspired.
During your career in R&B, you've seen so many trends and fads in pop music come and go. Why has your music, the music you love and play, survived the trends?
I've watched some of my original fans grow older, but the blues has always survived. It's all about survival. Young people are drawn to it because it's the foundation of everything. It's very rich music.
It has been five years since Shine Bright. Any plans for a new album by 2024?
Plans, yes. Anything concrete, no. I only need songs and impetus. That's all!
Could you say a few words welcoming fans on-board the Sandy Beaches Cruise, 2024?
I'm looking forward to seeing y'all! If you haven't signed up yet, don't miss the boat. I guarantee you'll have a great time!

- Colin Escott © 2023