A Letter from Mike Jason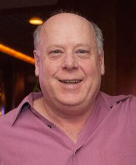 Greetings Sandy Beaches Cruisers,
I hope you're having a wonderful start to your summer! Usually this time of year, we're focused on all things programming for the cruise – scheduling artists into specific venues, thinking about what room we have to add artists to the lineup, and getting a good feeling about how the sailing is coming together. While much of this is underway, we're doing so with a sense of sadness after our dear friend Jay Curlee's passing. While we are new to the Sandy Beaches family, we were able to work closely this past year with Jay drawing on his talent, wisdom, incredible passion, and friendship. I personally appreciated Jay's encouragement, his honest and always well-meaning feedback, and how generously he shared his many years of experience with me.
Our thoughts and prayers are with his wife Susan, his family, and friends during this difficult time. We'll miss Jay dearly, but will continue to celebrate the music and artists he cherished so deeply. Please enjoy this recap video Jay created a few years back for the Sandy Beaches Cruise XXI
Mike Jason
Executive Producer