Catching Up with Ed Jurdi of The Band of Heathens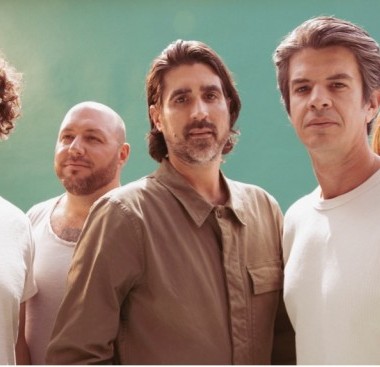 In the last ten years, few artists have appeared on the Sandy Beaches Cruise more often than The Band of Heathens.
Formed in Austin in 2005, they have been through several changes of line-up and one change of name. They were known as the Good Times Supper Club until a misprint in a local newspaper billed them as The Heathens. That was 2006. Now it's seventeen years, thirteen albums, and countless shows later. Through it all, they held fast to their indie values long enough to see those values go mainstream. And throughout, Ed Jurdi and Gordy Quist have remained at the helm.
For those unfamiliar with The Band of Heathens, perhaps the most meaningful comparison is with the band known simply as The Band. Several distinctive lead voices. Textures rooted in classic American music. But really, comparisons don't mean much. Best to go online, dig deep, and then come join The Band of Heathens on the twenty-eighth sailing of the SANDY BEACHES CRUISE.
Meantime, let Ed fill you in on some of the band's history with Delbert, the cruise, and the pleasures of going it alone.
Delbert was long gone from Austin by the time The Band of Heathens got together. Was his presence still felt?

It truly was. Delbert's history goes back so far. There was the first wave of rock 'n' rollers –Little Richard, Chuck Berry, and so on— and then the second wave in the early Sixties. Delbert was right there in that second wave. His career has been amazing. He symbolizes American music, especially Texas music. He's tapped into the two wellsprings—blues and country. His music is a gumbo. He's also got one of the great American voices, and by the way, his speaking voice is the same as his singing voice. Just like Willie Nelson's.
Delbert's a true national treasure. You hear his life when he sings. So, yes, he'd left Austin by the time The Band of Heathens got together but his influence and reach were still there. Still are.
How did The Band of Heathens connect with Delbert for the Sandy Beaches Cruise?
Our drummer Richard Millsap was friends with Delbert's daughter, Delaney. And Richard's father, Dave, was Delbert's lead guitarist for a time. The dots finally connected in 2013.
Could you sum up your experience of the Sandy Beaches Cruise?
The musical IQ of the fans is really high. I learn from everyone on-board. The fans, the musicians. There will be conversations going way into the night. Everyone seems so open to exploring new music, different music. It's an atmosphere like nothing I've ever experienced. And of course, sailing the Caribbean in January.
So, you're happy to participate in the late-night jams?
Of course. Every year except last year when Delbert was sick, we learned a new Delbert song to play and he'd come up to join us. One year, we did "The Jealous Kind"—a great Bobby Charles song that Delbert recorded in the Seventies. We did "Your Old Standby"—a song from his first album when he was part of Delbert & Glen.
One year, we did the George Harrison song "My Sweet Lord" with Raul Malo of the Mavericks. That's the kind of unique one-off collaborations you get on Sandy Beaches.

And it must be great for a musician to hang out after a show instead of load out.
Yeah, musicians are usually like ships passing in the night. On the cruise we get to hang out. Play a little music. Get to know artists we'd never otherwise get to know. Spend time with the fans.
The Grateful Dead were maybe the first band to encourage fans to make cassette recordings of the shows and trade them. You guys went one better and handed the fans a USB drive from the soundboard at the end of the show. Do you still do that?
Not so much of late, although we're thinking about restarting it. We play a different set every night, like the Dead. Incidentally, our former sound guy, who used to take care of the USB drives, now works for Sandy Beaches.
Other bands talk "indie," but you've been the most truly indie band of all.
Yeah, we walk the walk. I've always said that going the corporate route is like taking out a super-bad loan with high interest rates and no return. We pride ourselves on being more steak than sizzle, so we don't feel that we need someone with less understanding of our music calling the shots.
In managing your own label, do you deal with the everyday hassles like getting the distributors to pay, getting records re-pressed, and so on?
We have a great team that partners with us and helps us with all that, but we control as much as we feel we need to control. Ultimately, you can keep control or you can leave it to others and to the forces of nature. I mean, who knows what we need better than us?
On Spotify, your most-streamed song is "Hurricane." It was first recorded by Levon Helm of The Band. What led you to it?
Trevor Nealon, who plays keyboards with us, hipped us to it. It never was a hit, but it's a cool song. We completely reworked it. The lyrics are dark and we wanted to bring a heaviness to it to match the words. I believe we made it into our own song.
Your indie path has become quite well-trodden the last few years.
Yes. We started around 2005 when the business was quite heavily controlled by corporations, and now it's the Wild West again.
You worked on the Sandy Beaches Cruise when Delbert and his wife, Wendy, ran it. Have you noticed any differences since StarVista LIVE took it over?
No. It was just as great last year as it was all the years before. It seems like StarVista has a lot of reverence and respect for Delbert and Wendy. We all know Delbert was sick last year, but we really hope he'll come join us in 2024. I know if he can, he will, because he's Delbert!
- Colin Escott © 2023