Red Young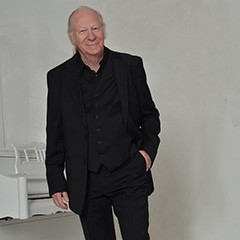 You have heard his work on recordings by Joan Armatrading, Dolly Parton, Eric Burdon, Marcia Ball, Ray Benson, Kirk Fletcher, Janiva Magness and others; TV shows such as Everybody Loves Raymond, Buffy the Vampire Slayer and The Osbornes; Movies such as In The Line Of Fire and Indecent Proposal; Live performances from Austin City Limits (Eric Burdon. Amos Lee, Marcia Ball), HBO (Linda Ronstadt-Nelson Riddle), Rockpalast (Joan Armatrading, Eric Burdon) and touring with Eric Burdon, Linda Ronstadt, Joan Armatrading, Sonny & Cher and others in countless performances around the world.
Being in the music business for his entire life, started playing piano at age 3 and first concert at 10), for Sandy Beach Cruises, Red puts together groups that involve all of his skills, talents and eclectic taste.
Three that Red does on Sandy Beach Cruise Red Young & His Hot Horns, Texas Red & His Can't Hardly Playboys and Late Night Piano Bar. The first two on the Five O'clock Happy Hour Shows and the One am Late Night Shows.
Red Young & His Hot Horns features Red on vocals, piano & organ, with drums, bass and horns doing Ray Charles, Jimmy Witherspoon, Percy Mayfield, Count Basie, Charles Mingus and original material by Red Young.
Texas Red & His Can't Hardly Playboys is Red with Betty Wilson (Teresa James), Patsy DeCline (Kimmie Rhodes) with James Pennebaker on Fiddle & Vocals, Danny Cochran on drums and vocals and a revolving cast of characters on bass, guitar and twin fiddles. They feature the toe tapping can't stop dancing Western Swing music of Bob Wills and others.
In his Late Night Piano Bar (1am nightly), with Red on piano and various other musical friends, the music runs the gamet of Standards, Blues, Jazz and everything to anything in between and he may tell some stories of those he's recorded and toured with too…