Marcia Ball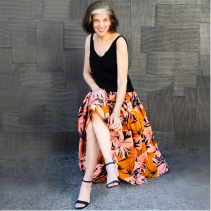 Award-winning pianist, songwriter, and vocalist Marcia Ball has won worldwide fame for her ability to ignite a full-scale roadhouse party every time she takes the stage. Born in Orange, Texas and raised in Vinton, Louisiana, Ball's deep Acadian heritage and a lifetime of absorbing and performing Gulf Coast rhythm and blues is evident in her original songs and the classics she chooses to cover. This has made her a one-of-a-kind favorite with music lovers everywhere. With each new release, her reputation as a profoundly soulful singer, a boundlessly talented pianist and a courageous, inventive songwriter continues to grow. Her love of the road has led to years of soul-satisfying performances at festivals, concert halls and clubs.
Marcia grew up in a family whose female members all played piano. She began taking lessons at age five, playing old Tin Pan Alley and popular music tunes from her grandmother's collection. But it was at age 13 that she discovered the power of R&B and soul music. One day in 1962, she sat amazed as Irma Thomas performed on a show at the Municipal Auditorium in New Orleans and delivered the most spirited and moving performance the young teenager had ever seen, and that feeling stuck with her. A few years later she attended Louisiana State University and after dropping out to explore the brave new hippie world of the late 1960s, she was invited to try out for a blues-based rock band called Gum. She made the cut and her future was set.
In 1970, Ball left Baton Rouge for San Francisco. Her car broke down in Austin and, while waiting for repairs, she fell in love with the city and decided to stay. It wasn't long before she was performing in local clubs, leading a band called Freda and The Firedogs, a group that was among the pioneers of Austin's Progressive Country movement.
When Freda and The Firedogs broke up in 1974, Ball launched her solo career and began touring outside of Texas and Louisiana. She signed with Capitol Records in 1977, debuting with the country-rock album Circuit Queen. It was around this time that she discovered Professor Longhair, the seminal New Orleans R&B piano player. "Once I found out about Professor Longhair," recalls Ball, "I knew I had found my direction." As she created and honed her own sound, she released six critically acclaimed titles on the Rounder Records label during the 1980s and 1990s. In 1990, Ball—collaborating with Angela Strehli and Lou Ann Barton—recorded the hugely successful Dreams Come True on the Antone's label. At the end of 1997, Marcia finished work on a similar "three divas of the blues" project for Rounder, this time in the distinguished company of Tracy Nelson and her longtime inspiration, Irma Thomas. The CD, Sing It!, was released in 1998 and was nominated for a Grammy Award.
Ball joined Alligator Records in 2001 with the release of the critically acclaimed Presumed Innocent. The CD won the 2002 Blues Music Award for Blues Album Of The Year. With each of her six subsequent Alligator releases, she's received critical praise, worldwide radio airplay, Grammy Award nominations, Blues Music Awards and Living Blues Awards too numerous to count. She earns new fans at every live performance.
Marcia Ball has appeared on the national PBS television special In Performance At The White House along with B.B. King and Della Reese, Austin City Limits and HBO's Treme. She performed in Piano Blues, the film directed by Clint Eastwood included in Martin Scorsese's The Blues series which aired on PBS television nationwide in 2003. Marcia also appeared on The Late Show with David Letterman with The New Orleans Social Club, where she not only reached millions of people, but also helped to benefit victims of Hurricane Katrina. In 2012, she had a role in the independent film Angels Sing starring Harry Connick, Jr., Lyle Lovett and Willie Nelson. In 2017 she performed on NPR's A Jazz Piano Christmas, live from The Kennedy Center in Washington, D.C.
Ball has been inducted into the Austin Music Hall of Fame, the Gulf Coast Music Hall of Fame, and the Louisiana Music Hall of Fame. The Texas State legislature named her the official 2018 Texas State Musician. In 2018, Marcia was inducted into the Austin City Limits Hall of Fame. In 2023, Marcia will be honored by the Texas Heritage Songwriters with the Darrell K. Royal Texas Music Legend award.
During the pandemic and subsequent lock-down in 2020, Marcia filled her time with work on a nonprofit organization she co-founded called HOME – Housing Opportunities for Musicians and Entertainers, which pays rent and utilities for older musicians in the Austin area (HOMEaustin.org). She wrote many new songs and collaborated with Lawrence and Gordon Wright on a musical play which she hopes will become a live stage show in the near future.
Of course, Ball never tires of performing live, and is thrilled to be back on the road again. "I still love the feel of the wheels rolling," she says, "and the energy in a room full of people ready to go wherever it is we take them."