Etta Britt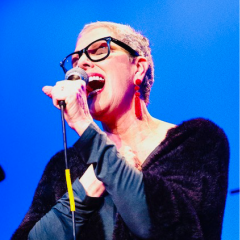 Etta Britt is a Nashville-based R&B, soul and blues vocalist, successful and sought after in the role of supporting artist. In 2012, she stepped out of the shadows when she signed with Wrinkled Records as a featured artist.
Etta's record deal, signed at age 53, and a well received freshman album, Out of the Shadows (2012), hitting the Living Blues Magazine's chart at #20, attracted the attention of Marlo Thomas at the Huffington Post who writes: "This story is about a woman who sacrificed the spotlight to help her family survive, and has been given the chance to take center stage with her very own record deal more than 20 years later!" The NBC Today Show and a feature story in August, 2012, covering highlights of the Huffington Post article, "Out Of The Shadows - Mom Signs Record Deal At 55", and includes video from an opening performance for Delbert McClinton at BB King's in New York in 2012.
Etta was part of country trio, Dave & Sugar in the late 70's and early to mid 80's. During her tenure with Dave & Sugar, the band toured with headline acts that included: Kenny Rogers,Tammy Wynette and Conway Twitty. She is credited on four Dave & Sugar albums including the Billboard Magazine Country Charts, #1 hit, "Golden Tears". Additional trips to the Top 10,
Country Singles chart, include: "My World Begins And Ends With You" #4, "Stay With Me" #6 and "Why Did You Have To Be So Good" #4. The group had continued success with eight additional Country Singles chart hits from 1980 through 1982.
Etta has been married to studio guitarist Bob Britt for 34 years. They have two daughters and six grandchildren. They perform together and Bob has produced five cd's on Etta including a duo cd together.
In 2020, Etta was diagnosed with breast cancer and underwent several months of chemotherapy and a radical surgery. With faith in God and the support of family and friends, she survived and is thriving, making more music and thrilled to be back on Sandy Beaches Cruise with all of the friends who were a big part of her journey.
"I can't wait to give lots of hugs, share stories and laughter and make some great music on SBC 2024."
Etta