Big Joe Maher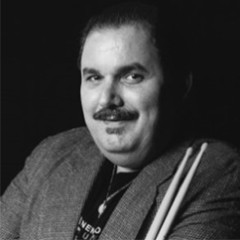 In 2019 Joe had the honor and privilege to perform as guest drummer on DELBERT MCCLINTON'S "Tall, Dark & Handsome" release which went on to win a GRAMMY in 2020 for "Best Traditional Blues Recording."
Joe Maher a/k/a "Big Joe" started out his music career in his Maryland high school jazz band "The Starliners." Musician greats like Clark Terry, Urbie Green, Mudell Lowe & James Moody were often guest teachers and performers with the band and were of great inspiration to him at an early age. Growing up, his father listened to records of Louis Jordon and a vast array of jazz and blues artists. This was also an early influence on his musical style. Joe started his own extensive roots blues record collection during the time in the late 60s when most of his friends were only into the rock-n-roll music of the time.
After high school, he went immediately on the road with his own jazz/blues trio. His mission then started to become an accomplished Singer/Drummer. Over time he has shared the stage and either backed up, opened up or recorded with Music Legends: Willie Dixon, Johnny Adams, Floyd Dixon, Delbert McClinton, Johnnie Johnson, Mick Fleetwood, Jimmy McCracklin, Jimmy Rogers, Pinetop Perkins, Jimmy Witherspoon, Bullmoose Jackson, James"Thunderbird" Davis, Nappy Brown, Jimmy T99 Nelson, Lazy Lester, Bobby Parker, Otis Rush & Earl King. Some of these legendary artists would often request him to back them up when coming to town knowing he would know their material and be quite adept at covering it.
In the late '80s after managing, performing and touring with the 9-piece swing band out of DC, The Uptown Rhythm Kings, and after a few years touring as drummer with the Tom Principato Band, Joe formed his own 5 piece jump blues group BIG JOE & THE DYNAFLOWS. In between touring and local performances with the Dynaflows, in the mid-90's Joe accepted the role as Music Coordinator for Mick Fleetwood's (Fleetwood Mac) nightclub in Alexandria, VA called "Fleetwoods." His knowledge of the local and national blues & jazz scene helped him land the position. Joe had the nightclub consistently filled with top-notch talent. In 1997, Big Joe and his Dynaflows had the honor to perform at one of the Inauguration Balls for the 42nd President of the United States in Washington, DC.
The Dynaflows release "I'm Still Swingin" on Maryland-based Severn Records, received the Washington Area Music Association (WAMA) "Best Blues Recording" in 1998 and "Layin' in the Alley" on New Orleans based Black Top Records received "Best Blues Recording" in 1994. WAMA also voted Big Joe "Male Blues Vocalist of the Year" both in 2005 and 2009. Other Dynaflows releases include "All Night Long," "You Can't Keep a Big Man Down" and "Rock House Party" on the Severn label, "Good Rockin'Daddy" (his first release) on the Powerhouse label & "Cool Dynaflow" on European label Tramp Records.
Along with producing or co-producing his own releases, Joe produced recordings for DC's leading jazz bassist John Previti, premier pianist and vibraphonist John Coccuzzi and the legendary honky tonk saxophonist Joe Stanley.