Adam Hood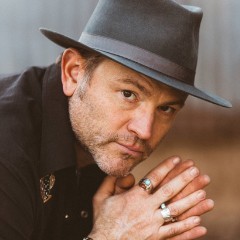 Solo artist. Frontman. Behind-the-scenes songwriter. For more than 2 decades, Adam Hood has left his mark onstage and in the writing room, carving out a southern sound that mixes soul, country, and American roots music into the same package.
Hood's latest album is titled Bad Days Better. An effort that was recorded in the famed Capricorn Studios in Macon, GA with Brent Cobb at the helm. The vibes and feel of the historic studio helped Cobb and Hood guide this project alongside the energy of past studio inhabitants suchas Otis Redding. The Allman Brothers Band, Marshall Tucker Band and Charlie Daniels Band among others. To be released on Hood's own independent label, fittingly called Southern Songs. Hood is weaving his present day among the echoes of his heroes and biggest influences; creating a sound, style and moment that is all his own.
The freshly sober family man recording inside the same walls as the musical icons of his youth, the go-to songwriter of the moment when an artist wants something with grit and groove, the acclaimed live performer that's packed out thousands of venues...all of it is found in the music Hood wrote for Bad Days Better. An exceptional cast of collaborators that included Brit Turner, Richard Turner and Charlie Starr of Blackberry Smoke helped lay down the musical tracks. And the background vocals are provided by Miranda Lambert, Courtney Patton, Charlie Starr, Brent Cobb and more.
Bad Days Better is a deeply personal album. Adam Hood has lived a life full of hills and valleys and spent years living in the valleys while trying to appear to the outward world that he permanently resided on the hills. His countenance and resignation to be honest with himself in all facets of life led to the most raw lyrics of his career. "I speak more than I want to sometimes," he says," It makes me nervous to play it because I know it's a vulnerable moment." That vulnerability and honesty in his music is just another layer to the southern musical story for which Adam Hood continues to write new chapters.
Little Big Town, Miranda Lambert, Travis Tritt, Riley Green, Whiskey Myers, Anderson East, Frankie Ballard, Josh Abbott Band, Lee Ann Womack, and Brent Cobb are among the dozens of artists who've recorded Hood's songs.